What the 2022 Automotive Industry Report Means for The Coming Year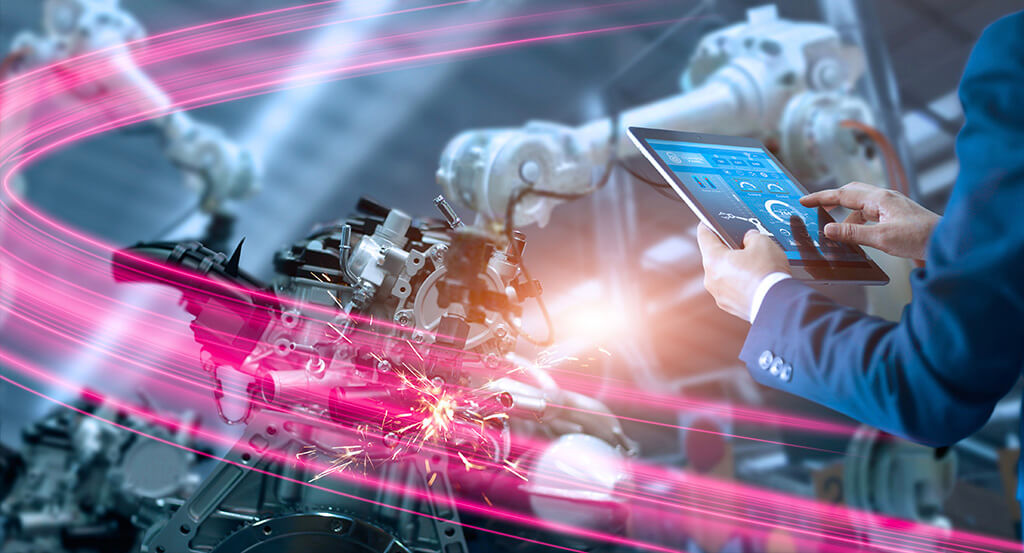 The beginning of fall signals a yearly wind down period for many industries, but for the automotive industry the changing colors of the leaves mean things are just getting started. The annual
Automotive Industry Outlook Report
is published each September by the industry research group
LMC Automotive
, and this much-anticipated projection of the year to come in the automotive industry helps set the path for manufacturers across the globe.
While it's no surprise this year's outlook report contains some sobering forecasts as the world continues to deal with the COVID-19 pandemic, there are indeed some bright spots in terms of production levels, sales, and exciting developments for OEMs, panel builders, machine builders, systems integrators, and other players in the industrial automation space relative to their work in the automotive industry.
To better understand the potential course for the automotive industry in 2022, let's briefly summarize a couple of the report's key findings before discussing how Rittal can equip those in the automation space with the knowledge, products, and solutions to overcome the challenges and seize the opportunities the next 12 months are likely to present.
Unpacking the 2022 Automotive Outlook Report
In summarizing this year's industry outlook report, let's start with the positive news that 2022 looks to be a year of recovery for automotive production on a global scale and in the North American market, which has been hampered throughout 2021 due to microchip shortages, labor shortages, and production shutdowns stemming from the pandemic.
The industry report projects North American manufacturers will produce around 2 million new vehicles during 2022. While this forecast comes in a little lower than the projected demand levels, a healthy percentage of this production is expected to come from new electric vehicle producers. This is encouraging from an innovation standpoint but also in relation to the diversification of the infrastructure the automotive industry needs to adapt and keep pace with the move toward electric vehicles.
Another uplifting statistic from this outlook report is that North American production was up 3.7% through September of this year compared to last year at the same time. This uptick not only looks to strengthen the total end-of-year numbers but also acts as a strong jumping off point going into Q1 of 2022.
While the North American automotive market did cut 2.2 million vehicles from planned production in large part due to more than 3,000 lost production days in assembly plants across the country, automotive manufacturers are poised to make a strong comeback in 2022 and beyond.
LMC Automotive analysts project an easing of the microchip shortage by mid-2022 and that North American automotive manufacturers could recover more than 2.5 million vehicles by the middle of next year. If there's one important takeaway from this year's report, it's that the worst is likely behind us and a significant ramp-up in automotive production is very much on the horizon.
How manufacturers can prepare for a comeback
If there was ever a time for automotive manufacturers to take a good look at the efficacy of their industrial enclosure and climate control infrastructure, that time is now, and Rittal has the state-of-the-art automation and control manufacturing solutions to help automotive manufacturers ready themselves for a return to normal production plans.
Together with
our sister company EPLAN
, we provide an industrial automation system that not only reduces the complexity of multi-stream production programs but also provides manufacturers with enhanced insight into their existing workflows to identify redundancies and optimize processes. EPLAN's powerful line of computer-aided engineering (CAE) software offers holistic automation for panel building and manufacturing at each stage of the process, from design and material sourcing to engineering and modification.
Coupled with Rittal's modular line of industrial enclosure solutions, OEMs, panel builders, and systems integrators can provide custom enclosure solutions with the flexibility to adapt to changes in production programs as well as the continued development and proliferation of electric vehicles.
Whether it's the strength, durability, and baying capability of our TS 8 free-standing enclosure, or the configuration flexibility and space-saving capacity of our new
VX SE Free-standing enclosure system
, Rittal's modular approach to enclosure design and production is engineered to optimize processes to save both time and money. Our network of
modification and distribution centers
double down on this approach by removing the manual processes associated with panel modification and providing rapid delivery of component parts through a robust inventory.
Our innovative approach to industrial enclosures is matched by our forward-thinking philosophy toward
enclosure climate control systems
. With an emphasis on automation, network connectivity, analytics, and actionable data, Rittal's climate control solutions offer automotive manufacturers more power and control over one of the most critical elements of their production facilities: maintaining efficient, consistent cooling for enclosures and electronics.
Rittal's Blue e+ line of cooling units reduces energy costs by an average of 75% due to hybrid technology that leverages both active and passive cooling. With remote monitoring and systems alert capability via the IoT interface, Blue e+ is the most energy-efficient climate control system on the market today. In addition, our air-to-water and air-to-air heat exchangers allow for variable mounting positions, digital temperature control for precise cooling, and connection flexibility to meet your exact specifications no matter the context of deployment.
From design to procurement and production to delivery, Rittal's industrial automation and climate solutions for the automotive industry help manufacturers build a powerful production infrastructure that is ready to tackle the challenges of tomorrow.
Download our new Automotive Solutions Suite to learn more about our products and solutions for the automotive industry.